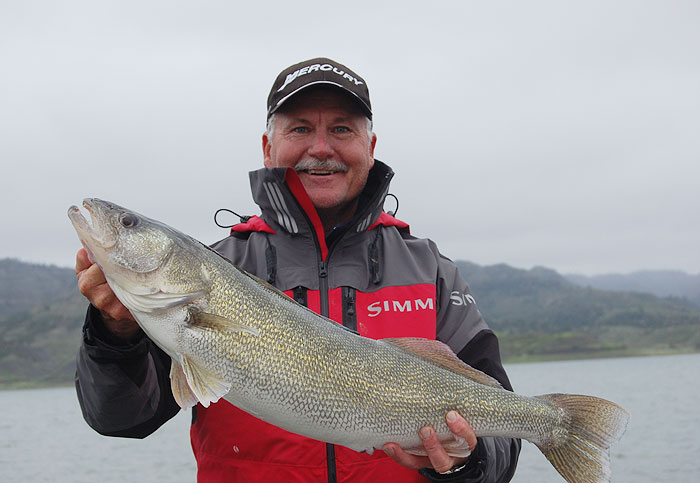 Jim Muzynoski, Fort Peck Tournament Winner, Montana Licensed Guide and Charter Captain offers custom guided fishing trips for trophy walleye, bass and northern pike. Being a 6 time Professional Walleye Trail Championship Qualifier, I specialize in walleye. I do nearly all of my guiding on Fort Peck Reservoir because Fort Peck is world class. I focus on walleye and I am serious about catching fish and having fun doing it. You can be assured that you are going to have a fun and safe fishing trip. I update my fishing boats almost yearly and only book during the times that give the best opportunity to catch fish. Each season I guide approximately 40 – 45 days in late April through July. You may want to book your adventure early. Contact me directly for your trip questions, how to book a trip and all other details at 406-539-2069 or 406-585-2239. You can also email me at jimmuz@msn.com. I provide the boat, the bait, all the gear and know-how. You just need to bring your license, lunch, rain gear, personal items and don't forget your camera.
Note: An added plus when fishing out of the Hell Creek area as we do, there are virtually no bugs. I rarely even see a mosquito.
How To Book A Fishing Trip!
I offer Guided fishing trips, or a combination fishing / instructional clinics on the Montana waters below, call to discuss 406-539-2069. Note: Combo days can be customized to serve your specific needs.
Fish Fort Peck Reservoir
Trophy Walleye, Smallmouth Bass & Northern Pike
New Action – Check our links for current pictures and on the water client video to see exciting fishing action!
Cost is $600 for a day trip with up to three people with an additional $50 per day for an additional person.
Jim is a licensed Guide and Booking Agent for Montana River Outfitters
United States Coast Guard – Captains License #2954716
Montana Board of Outfitters – Guide License #13106
For more information or to book a trip, please contact Jim:
Phone: 406-585-2239
Cell: 406-539-2069
E-mail: jimmuz@msn.com
Jim's Sponsors
I'm proud to represent these fine sponsors. Their equipment is outstanding. Their service is top-notch. Without them, I couldn't enjoy the success on the water that I've been blessed with over the years. Click on their logos below to visit their Web sites.